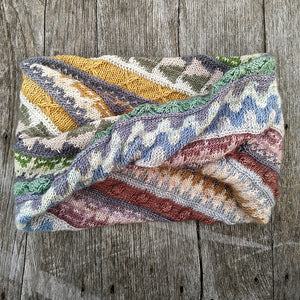 Twenty four tiny skeins of yarn, twenty four little snippets of pattern, and twenty four days to do the knitting…
It's the CATVENT COWL! The purrfect advent knit. It's a varied knit: lots of snippets of catty colourwork as well as some cat-inspired texture, and pretty lateral braids. You'll knit plenty of little catfaces, but there are also sections that feature boopable-noses, silky pointy ears and llittle raspy tongues.
The Catvent Cowl was designed to work with yarn advent calendars, but it's also great for using up your scraps of yarn.
You'll need 24 x 10g/ 40m of 4ply yarn. If you're using up scraps or stashed mini- skeins and don't quite have 24 shades one 100g/400m skein of 4ply yarn will easily replace eight of the mini-skeins.