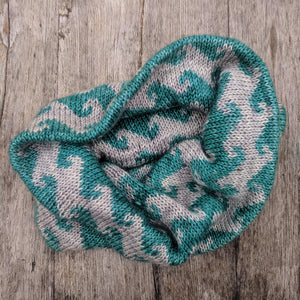 This is a cosy cowl, perfect for layering over sweaters or under your winter coat.

The cowl has a circumference of 72cm/ 28" and depth of 18 cm/ 7" - and instructions are included for making it larger or smaller.

This is a very good pattern for making your first foray into colourwork. Because the wrong side is hidden away any extra-straggley floats will remain hidden and safe from snagging, and because a cowl doesn't need that much stretch it's forgiving for colourwork that's slightly tighter than ideal.

The pattern uses 200m/ 220 yards of DK-weight yarn in each of C1 and C2.