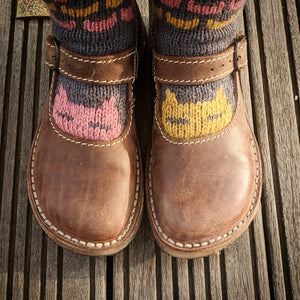 The Peeky Catsock features a colourwork catface designed to peek out of maryjane and other low fronted shoes. It's got contrast cuff/ heel/ toe, and rows of little cat faces on the ankle.

It's a quick, fun knit!

The pattern is one size (for now), but there are instructions for adjusting the length to suit your feet. It's knit cuff-down, with a short row heel.