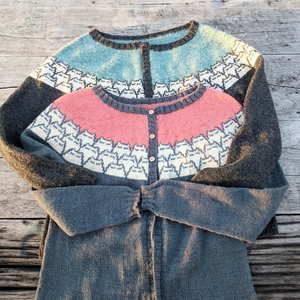 Not enough cats in your life? Or on your cardigan? The Sinister Catdigan will solve that problem. Look at all those smug, judgy little faces glaring out at the world, and plotting all sorts of sinister goings-on!

This cardigan is worked in 4-ply yarn. It works well as a fitted cardigan with little or no positive ease, and also as a more relaxed, looser knit.

The cardigan is knitted in the round, and steeked. You can choose to knit a shaped or straight waist. The pattern includes guidance for converting it to a sweater, and there are also suggestions for adapting it to better fit you.

The Catdigan comes in 16 sizes - from 74cm to 164 cm. You can choose to knit it as a fitted cardigan with little or no positive ease, or move up a size or two for a more relaxed knit.

This cardigan is designed to work with a variety of 4ply/ fingering/ sock weight yarns. You don't need much contrast between the two contrasting colours - you can use the same shade for both if you like - but you will need a strong contrast between the contrasting colours and the MC. For the MC in particular you'll need a solid or nearly-solid colour. CC1 (the background behind the cats) can look fantastic in a speckled or variateged yarn.

For some colour inspiration take a look at the #sinistercatdigan hashtag on Instagram.

Yarn choices

This cardigan is steeked, so a wooly, easily felted, non-superwash 100% wool yarn is ideal. Any 4-ply / fingering / sock weight yarn is suitable, as are Shetland jumper-weight yarns.

If you choose a superwash yarn, a sock yarn containing a little nylon, or a blend that's not 100% wool you might want stitch the steek with a sewing machine zig-zag stitch or run a second reinforcing line of stitching when you're reinforcing it. You might also want to catch the floats behind the cats more frequently.

Yarns with more than 25% non-wool content are a bad choice for this project.

If you're unsure whether a yarn will work well for this pattern try making a small colourwork swatch, and cutting a steek in it. Two repeats of the cat-chart, along with the steek stitches, should be enough to give you a good idea.