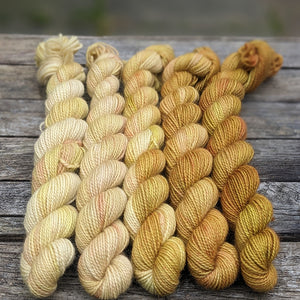 These mini-skein fade sets are perfect for knitting up bright accessories, or pairing with a neutral shade for a more subtle pop of colour.
Harvest - soft straw deepening to a rich gold
This is a fine merino yarn with a bouncy high twist. It's got a soft, buttery handle and is a joy to knit with. It's a fingering / 4ply weight.
There are five 80m/20gr miniskeins in each set. It's not been superwash treated.