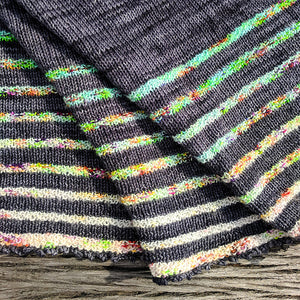 This is a deceptively simple knit - soothing stocking stitch, with bursts of a moss stitch stripe adding a little excitement. It's a perfect knit for holidays, knit-nights and long train journeys, and for those times when a spot of comfort-knitting is called for.

Use it to showcase that perfect mini-skein set, or to tame that incredibly bright skein - or make all those ends of sock yarn into something new and amazing!

The pattern calls for 200g of the main colour. For the contrasting stripes you can use a set of five 20g mini-skeins or a single 100g skein. Yarn quantities are also given for each individual stripe if you'd like to construct your own gradient from your scrap pile.