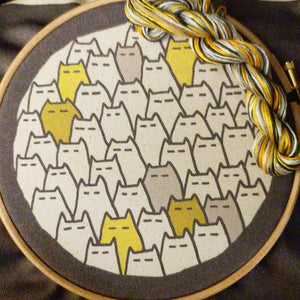 These cats are watching you! Stitch around their edges, give them tabby stripes, satin stitch them in solid shades - it's up to you! 
No stitch lists, no rules on colour – the printed fabric has an abstract-ish design, and you can choose how to fill it in.
Suitable for all abilities – you can work your piece using a single simple stitch, or you can go wild with advanced & complicated stitches.
Everything you need – our kits come with printed fabric, oodles of floss, a sprinkling of beads, a beech wood hoop (also great to display your masterpiece), needles & a quick-start guide, all packaged up in a hand-printed cotton project bag.